Fresh Flex Store Design
Flexible. Scalable. Designed for the future.
Introducing Del Taco's New Fresh Flex Store Design
The bold, new prototype holistically reconceptualizes Del Taco restaurants. The Fresh Flex design's striking exteriors and distinctive interiors evoke a contemporary feel, while lowering net investment costs, improving real estate flexibility, and providing ultimate convenience for guests and operators.
With innovative additions like third-party pick-up stations and double drive-thru lanes with a dedicated lane for mobile orders and delivery pickups, the future-focused model optimizes operational efficiencies and caters to modern consumers' expectations: accessibility, speed of service, & brand transparency.
Ultimate Convenience Platform
Scalable design to expand real estate opportunities
Interior design highlights working kitchen and fresh ingredients prepared daily
Efficient kitchen designed to optimize labor and improve guest experience
Dedicated mobile app and delivery drive-thru lane
Contactless third-party delivery pickup stations
Inviting on & off-premise dining options
Prototype Gallery
The Del Taco prototype restaurant features a contemporary and colorful interior and exterior design with visual cues highlighting Del Taco's commitment to freshness and quality throughout the restaurant. Whether you're looking to build free-standing, conversion, or end-cap locations, our flexible restaurant footprint allows you to gain access to virtually any real estate opportunity.
Menu of Venues
Our scalable Fresh Flex Prototype is designed to fit all of your real estate needs.
Venue Types
At Del Taco, our flexible construction plan allows us to build locations in a wide variety of traditional & non-traditional venues including...
Free-Standing
Endcaps
Co-Development
Convenience Stores (C-Stores)
Travel Plazas
Airports
Stadiums
College Campuses
Military Bases
And Much More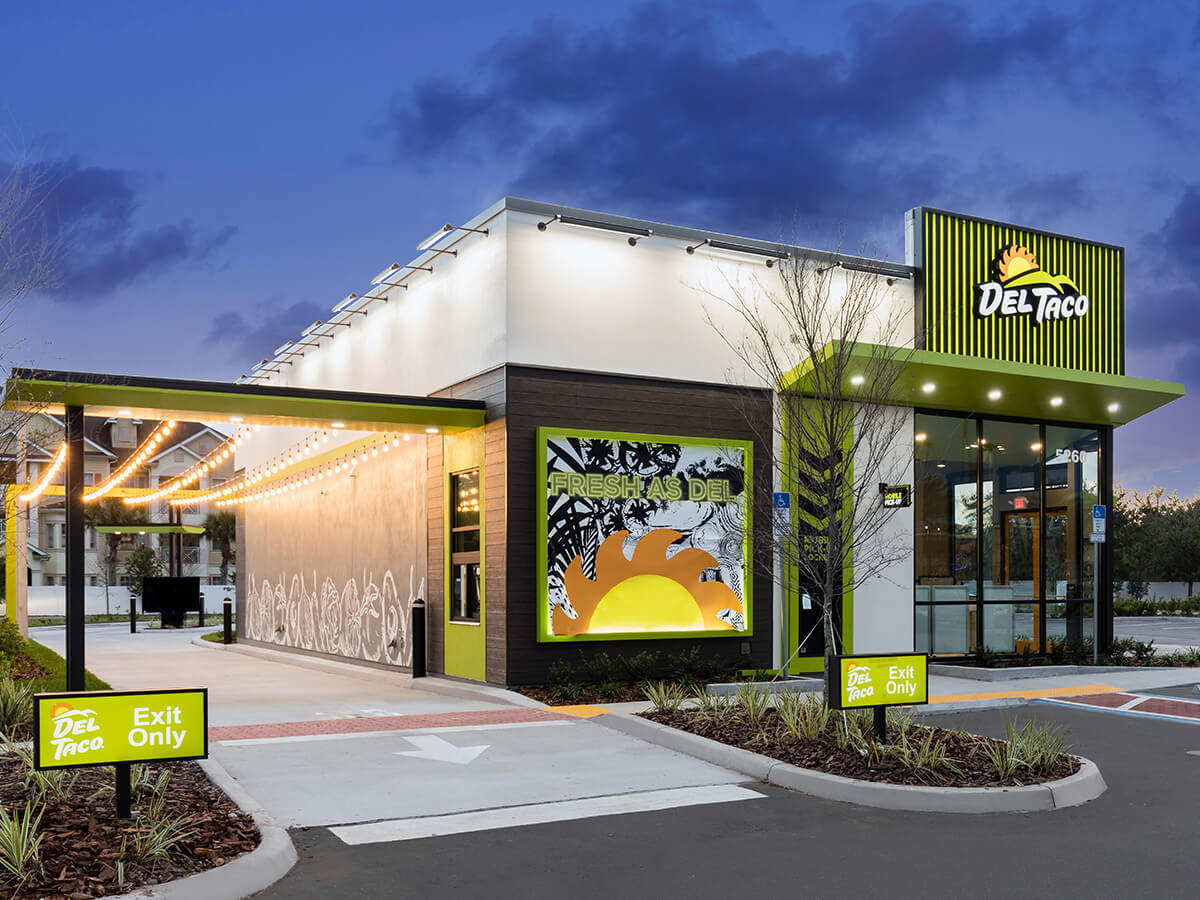 Preferred Site Criteria
When building a free standing Del Taco restaurant, this is the preferred site criteria we look for:
Frequently Asked Questions
Answers to some of the most popular real estate & franchising questions we receive at Del Taco.
READY TO GET STARTED?
Please submit the form below to begin your franchising journey with Del Taco!